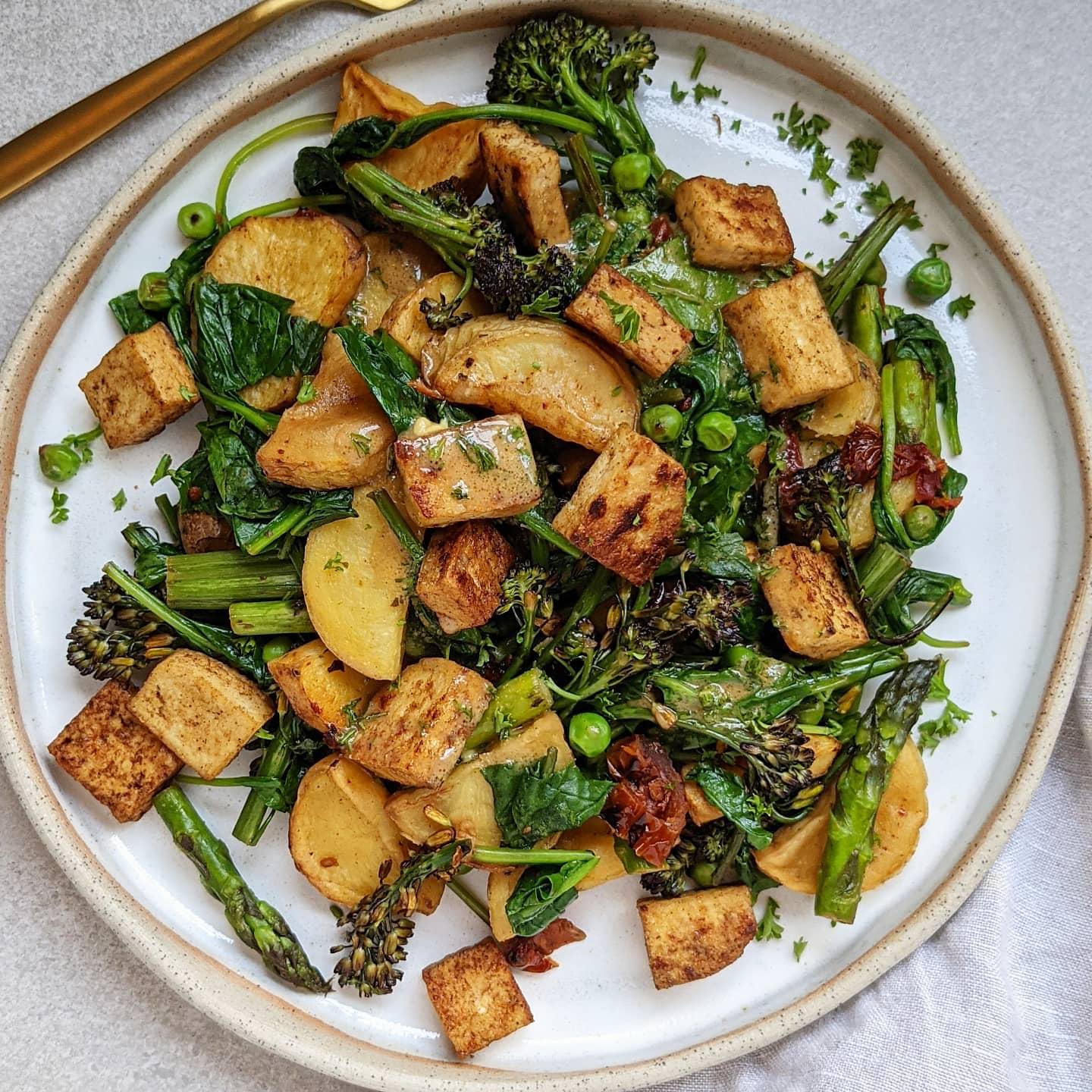 Recipe Creator: @veggie_nerd
Images Credits: @veggie_nerd
Made with love using seasonal produce this summer.
100% organic ingredients
Plant based wholefoods
Easy to follow recipe
100% refined sugar free
Gluten Free
Dairy Free
Nut Free
Vegan Friendly
Vegetarian Friendly
Can be served hot or cold
And did we mention it tastes DELICIOUS!

One thing we love about the festive season approaching, is all those gatherings and BBQ's where you need to bring a plate.
Being a health conscious person can come with some challenges when trying to make something that everyone will enjoy. And trying to meet everyone in their dietary needs is almost impossible these days.
This dish is definitely a crowd pleaser and it meets many dietary requirements. Plus, it is super healthy, so you will have something you can enjoy at your party, without the guilt.

Have it as a side with dinner or lunch or even as a meal on its own.
This plant-powered potato salad is so versatile, even your meat loving friends and family will come back for seconds.

This recipe was created by our friend Nicola or as you may know her on Instagram; @veggie_nerd

She has recreated one of our summer favourites... Potato Salad and we can not wait to share it with you!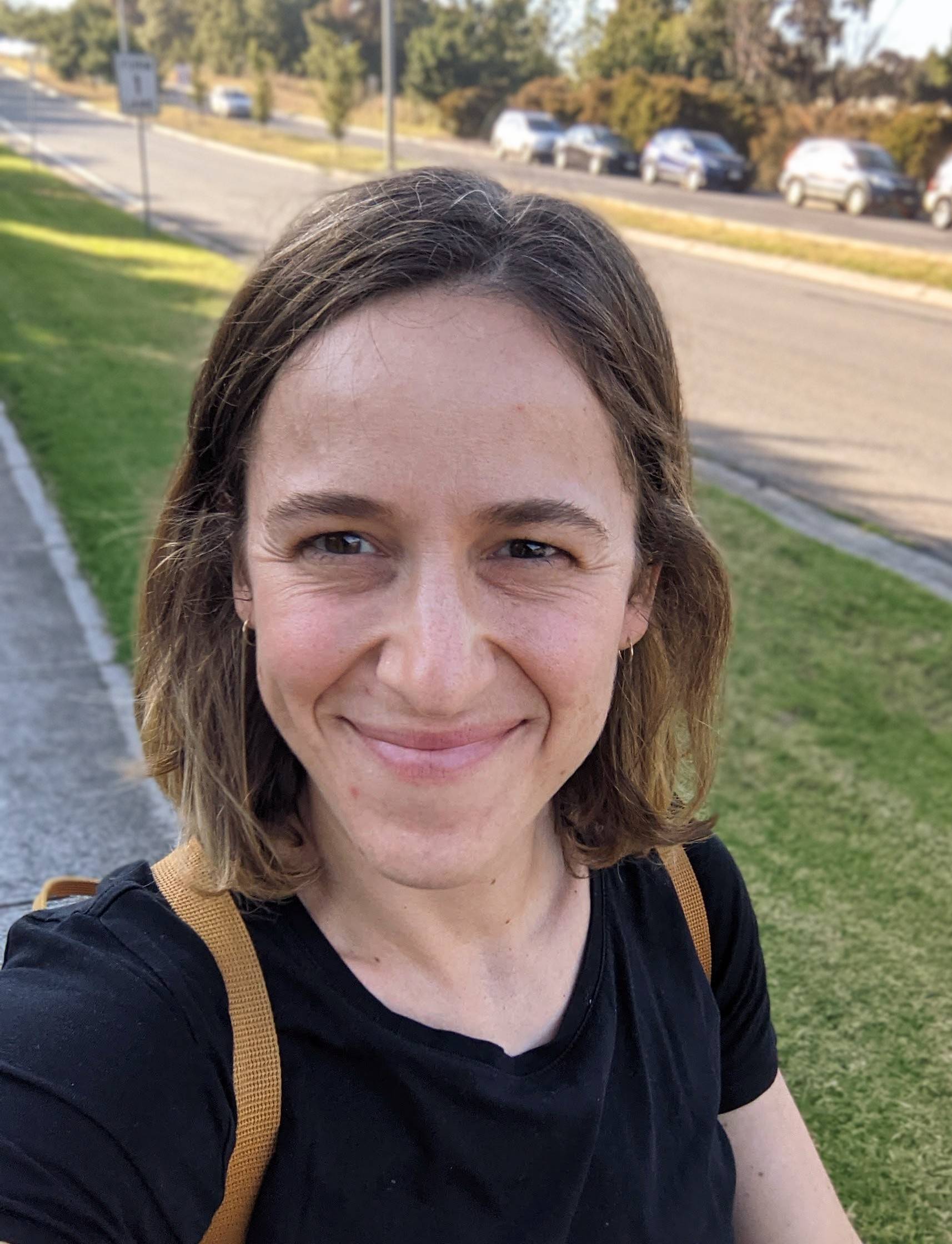 "I am a physiotherapist, a mum of 2 young kids, and an enthusiastic vegan foodie. I love Crossfit and long distance running. Feeling healthy and strong is really important to me!
I have always been passionate about health and fitness as well as environmental sustainability. I transitioned to a vegan diet in 2020 when I learnt about the negative environmental impacts of animal agriculture, which also shed light on the animal suffering I wasn't fully aware of (or chose not to see).
I fell in love with creating vegan meals that are simple and delicious that also support my fitness goals! My husband started calling me the 'veggie nerd' because I'd find so much joy in using vegetables in creative, new ways. I began sharing my meals on Instagram hoping to inspire others to fall in love with a plant based lifestyle!" - @veggie_nerd
This quick and easy summer potato salad, uses organic seasonal summer vegetables and is accompanied with a tasty dijon and dill dressing.
Packed full of plant based macro and micronutrients, this one is sure to turn heads at your family or friends BBQ.

Bursting with health benefits, this potato salad will keep you feeling satisfied whilst nourishing your cells.
Potato

Potatoes are a great source of the following nutrients;
Potassium
Calcium
Iron
Magnesium
Phosphorus
Zinc
Copper
Vitamin C
B Vitamins

Asparagus

According to Dr Axe, Asparagus is a nutrient-dense food that is high in folic acid, is jam packed with antioxidants and anti inflammatory properties and is a good source of potassium, Vitamin B6, Fibre, Vitamin C, Thiamine and Vitamin A.
It has been said to help the body defend against oxidative stress reducing the effect of cell damaging free radicals, helps maintain healthy blood pressure and cholesterol, protects against infections in the urinary tract and lots more.


Sundried Tomato

Sundried tomatoes are tomatoes that have lost their water content. However, they have retained their nutrients and sweetness, making a deliciously concentrated and intense tomato flavor. They are said to be rich in vitamins, minerals and antioxidants.

Antioxidants protect us from free radicals. Free radicals are the byproducts of chemical processes within the body, which damage our healthy cells leading to disease.Sundried tomatoes are specifically high in Vitamin C and Vitamin A which assist in strengthening the immune system and work as antioxidants, protecting us from disease and degeneration.

Dill
According to Dr Axe, Dill weed is a part of the parsley, cumin and bay leaf family. It is said to reduce menstrual cramps, treat depression, lower cholesterol, repel bugs, boost energy and digestion, provides antimicrobial effects and protects against free radicals.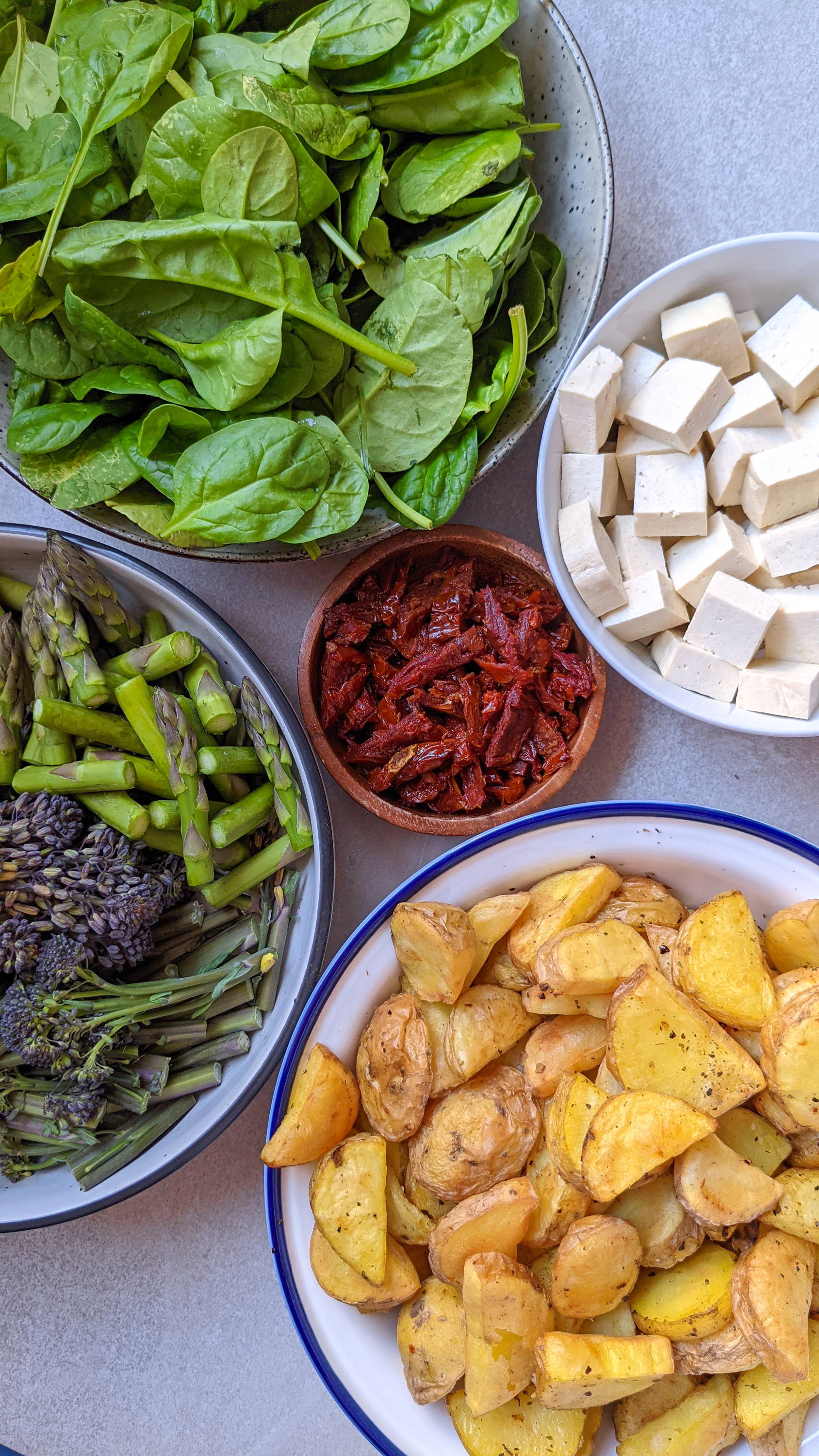 Summer Dijon and Dill Potato Salad

Per serving:
Calories | 343g
Protein | 28g
Carbohydrates | 45g
Fat | 6g
Prep Time: 15 minutes
Cook time: 20 minutes
Serving size: 4
Course: Side salad, side dish, Main meal, Lunch, Dinner
Health and Dietary requirements: Vegan, Vegetarian, Gluten Free, Plant-based, Dairy Free, Refined Sugar Free, Naturally Sweetened, Plant-based, Wholefoods, Peanut Free, Egg Free, Sesame free, Nut free

Storage: Fridge
Date: Consume within 4 days. Keep Refrigerated.
Ingredients
Metric
Ingredients:
5 medium sized potatoes cubed and roasted (800grams)

1 Bunch of Broccolini

1 Bunch of Asparagus
1 cup of baby spinach leaves

1/4 cup of chopped Sundried tomatoes
½ cup of frozen Peas

1 block of Tofu (400g)

Dijion and Dill Dressing:

1tbs Dijion Mustard

1tbs Olive oil
1tbs Balsamic Vinegar

1tbs Lemon Juice

1tbs chopped Dill

2tbs Water

Salt and pepper to taste

Instructions
1. Wash and cube potatoes. Roast in the oven or air fryer for roughly 30 minutes. Once cooked, set aside.

2. Combine all the dressing ingredients and mix well. Set aside.
3. Slice the 400g block of Tofu into cubes. Add to a pan and pan fry until golden and crispy. You can add a splash of oil or water. Once cooked, season with salt and pepper and add 1 tbs of balsamic vinegar. Set aside.

4. Slice the broccolini and asparagus into halves and then pan fry with a splash of water. Once the green colour starts to brighten, add in sundried tomatoes and peas. Once the peas are cooked, add in the roasted potatoes and spinach leaves. Cook until the spinach leaves slightly start to wilt. Remove from heat.

5. Combine the tofu, veggie mix and dressing into a serving bowl and mix through. Top with fresh herbs and serve hot.
6. Refrigerate and let the salad cool. This can also be enjoyed cold.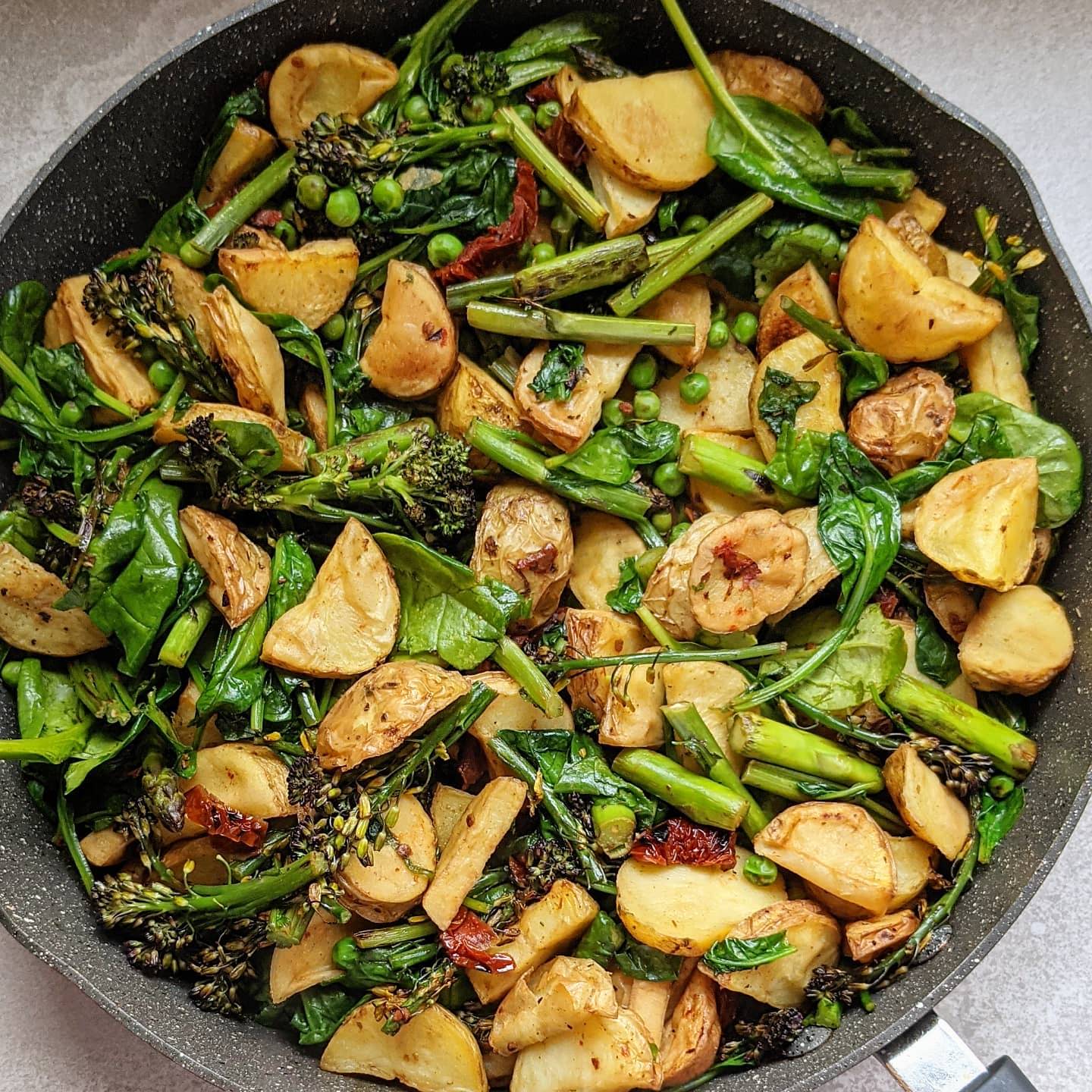 Can I substitute any ingredients?
Yes.
The veggies can be substituted for other seasonal greens, but Nicola's favourites are asparagus and broccolini. You could substitute in some snow peas or normal broccoli. Or even some green beans.
Get creative and do share your variations with us @wearegardenofvegan

Can I make this oil free?
Yes.
Simply remove the oil and add a splash of filtered water where needed.

What about if I can't have soy?
You can substitute for tempe blends or another source of protein. This could be brown lentils or chickpeas.

For more plant based inspired recipes, head to @veggie_nerd

---