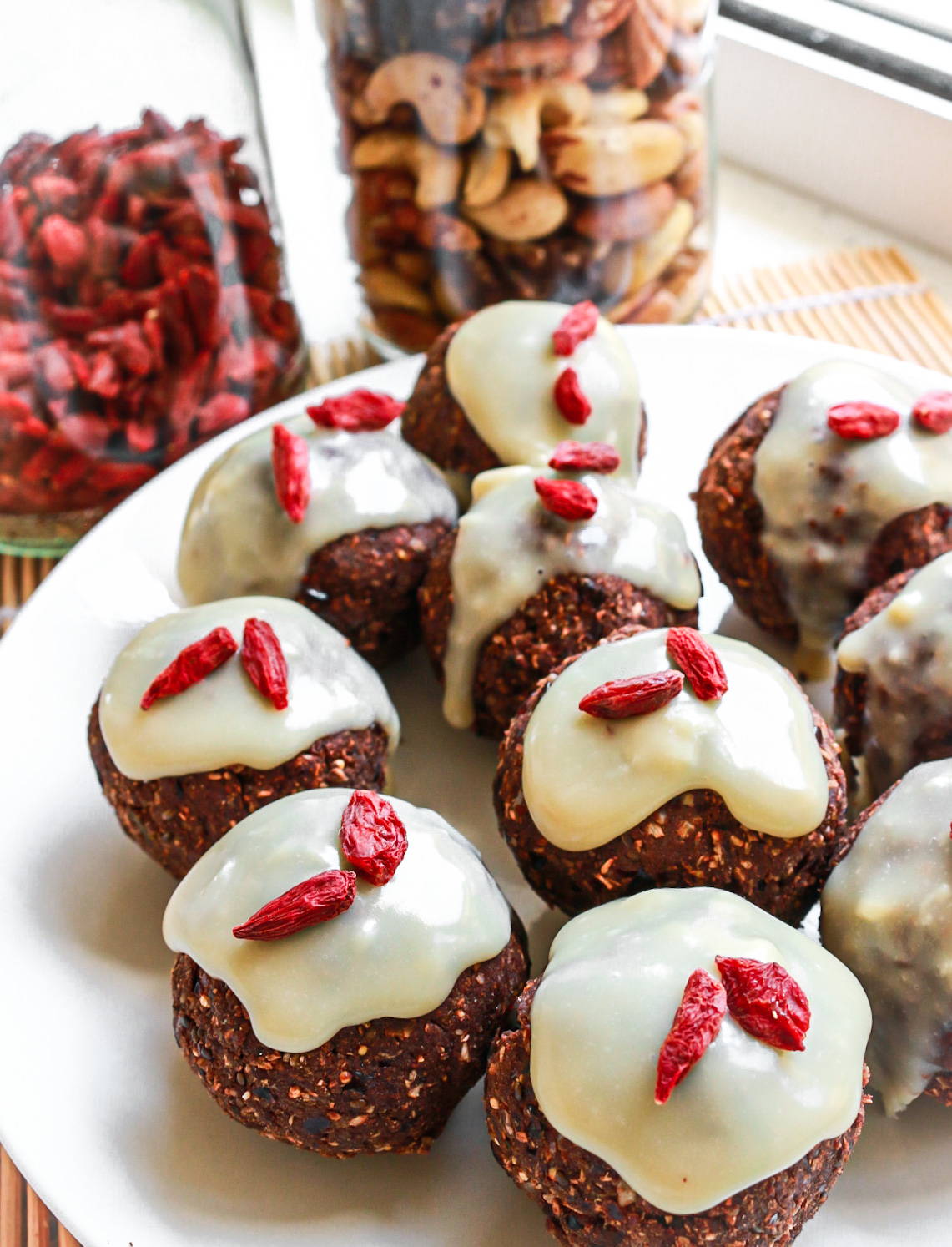 Recipe Creator: @naturally_nina_
Images Credits: @naturally_nina_
A great treat, dessert or snack to share with friends, this silly season!
Organic Ingredients
Plant based wholefoods
Raw
Easy to follow recipe
Refined sugar free
Gluten Free
Dairy Free
Oil free
Vegan Friendly
Vegetarian Friendly
Easy to store and carry
Delicious and fun, these festive inspired bliss balls taste totally indulgent but happen to be very nutritious.

These Christmas Pudding Bliss Balls are packed with healthy plant sources of;

Iron
Zinc, Healthy Fats
Dietary Fibre
Magnesium
Vitamin E
But regardless of nutrition, they are tasty as can be, super cute and everything you want in a Christmas spiced treat
This recipe was created by our friend Nina or as you may know her on Instagram; @naturally_nina_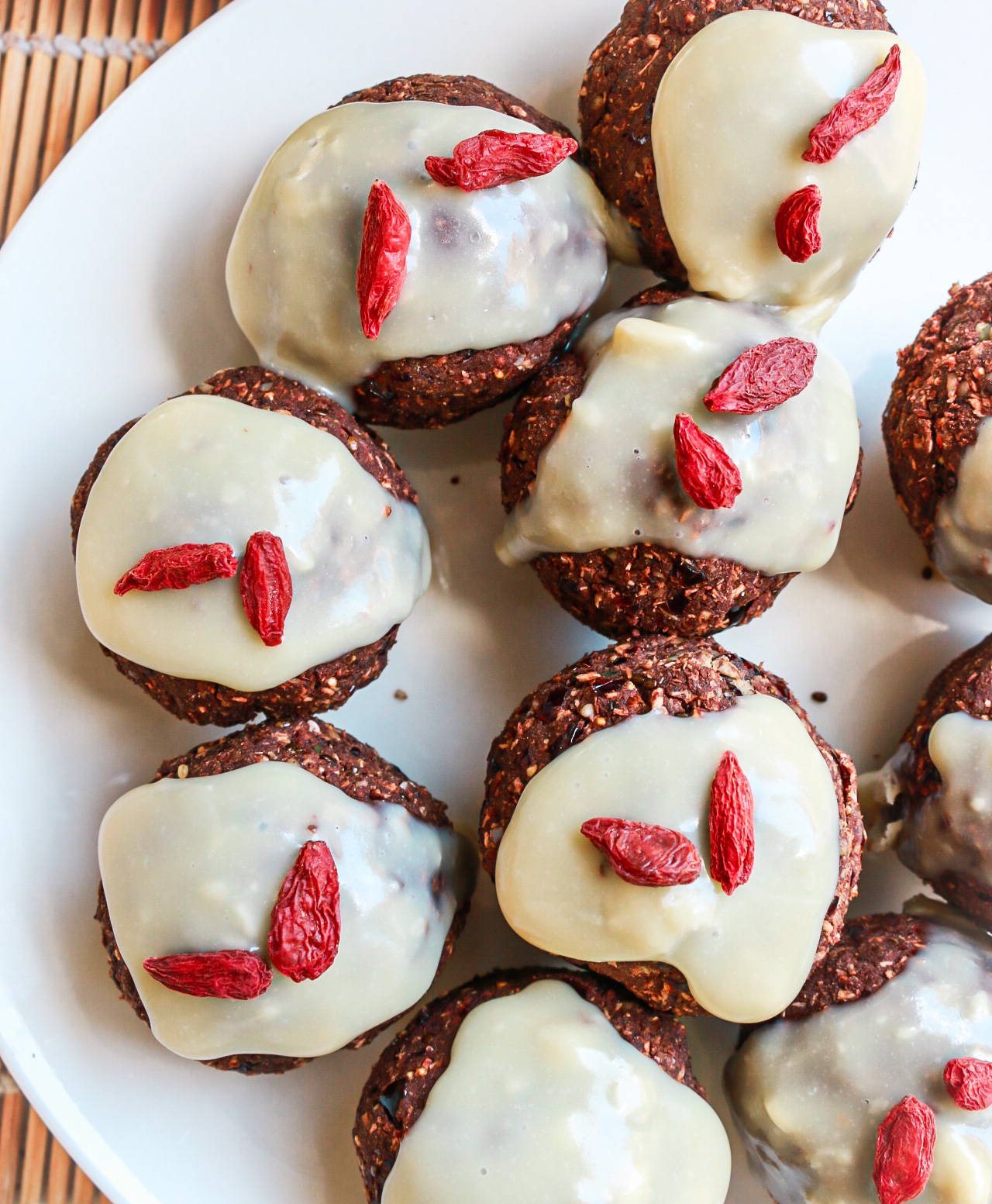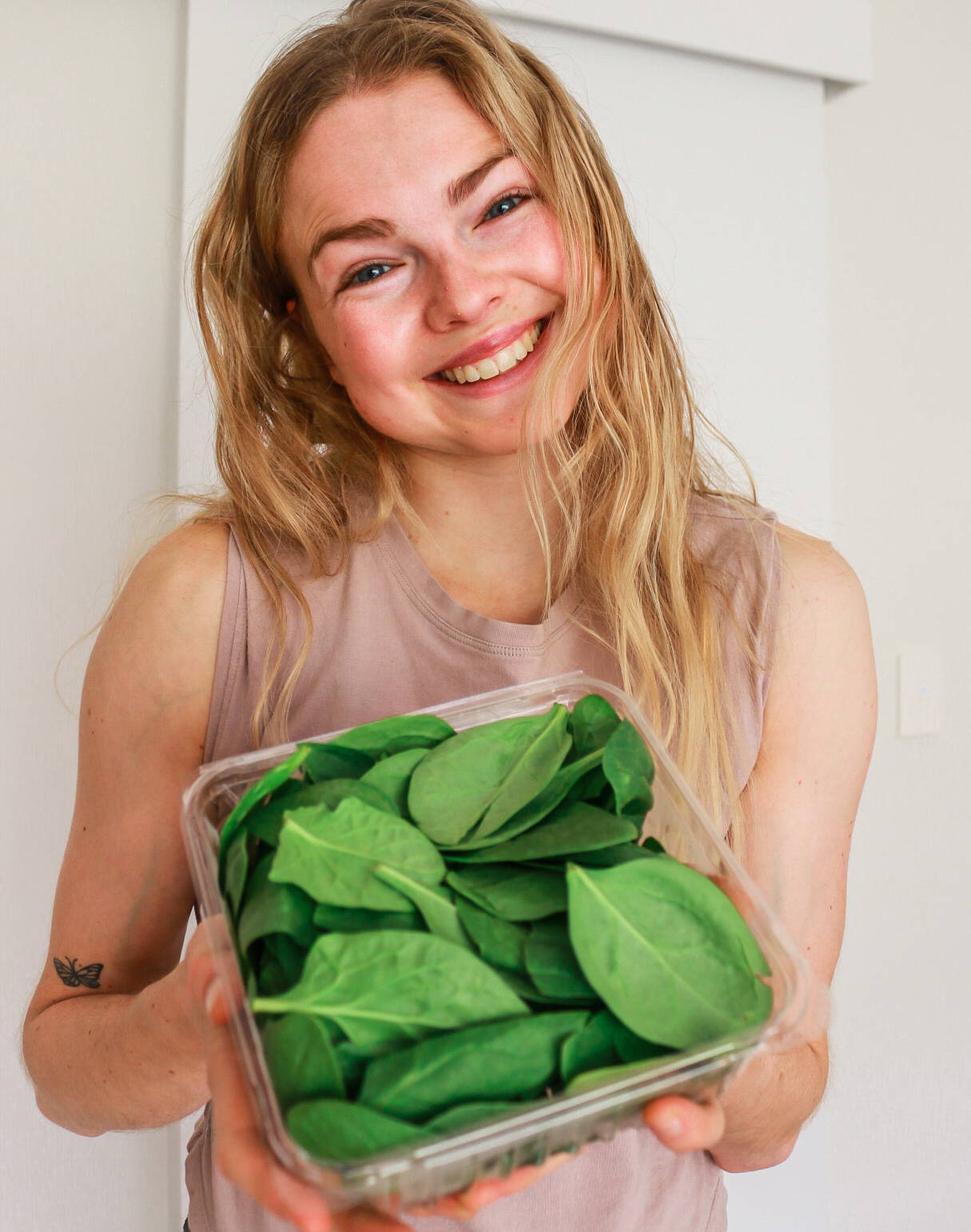 Nina is an accredited Nutritionist and Sports Nutritionist, as well as CrossFit Coach and recipe developer. She specialises in sports and performance nutrition, disordered eating and plant based diets.
A plant based athlete and total foodie herself, she developed her passion for nutrition after being diagnosed with type 1 diabetes and overcoming a severe eating disorder. Her aim is to educate and empower others in learning to best fuel their bodies to support their health and performance goals, whilst developing a positive and healthy relationship with food, through evidence based, fad-free and individualised nutrition.
Nina's Instagram page is focused on highlighting fact from fiction in the nutrition space, sharing evidence based nutrition information and of course plenty of delicious and wholesome plant based recipes along the way!
Nina sees clients for one-on-one nutrition consults worldwide, and creates individualised nutrition plans for health, training performance and everyday life.

When she's not training or coaching in the gym, or seeing nutrition clients, you'll probably find her out on a walk with a good podcast, spending time with her rescue kitty Mali, or cooking up a storm in the kitchen!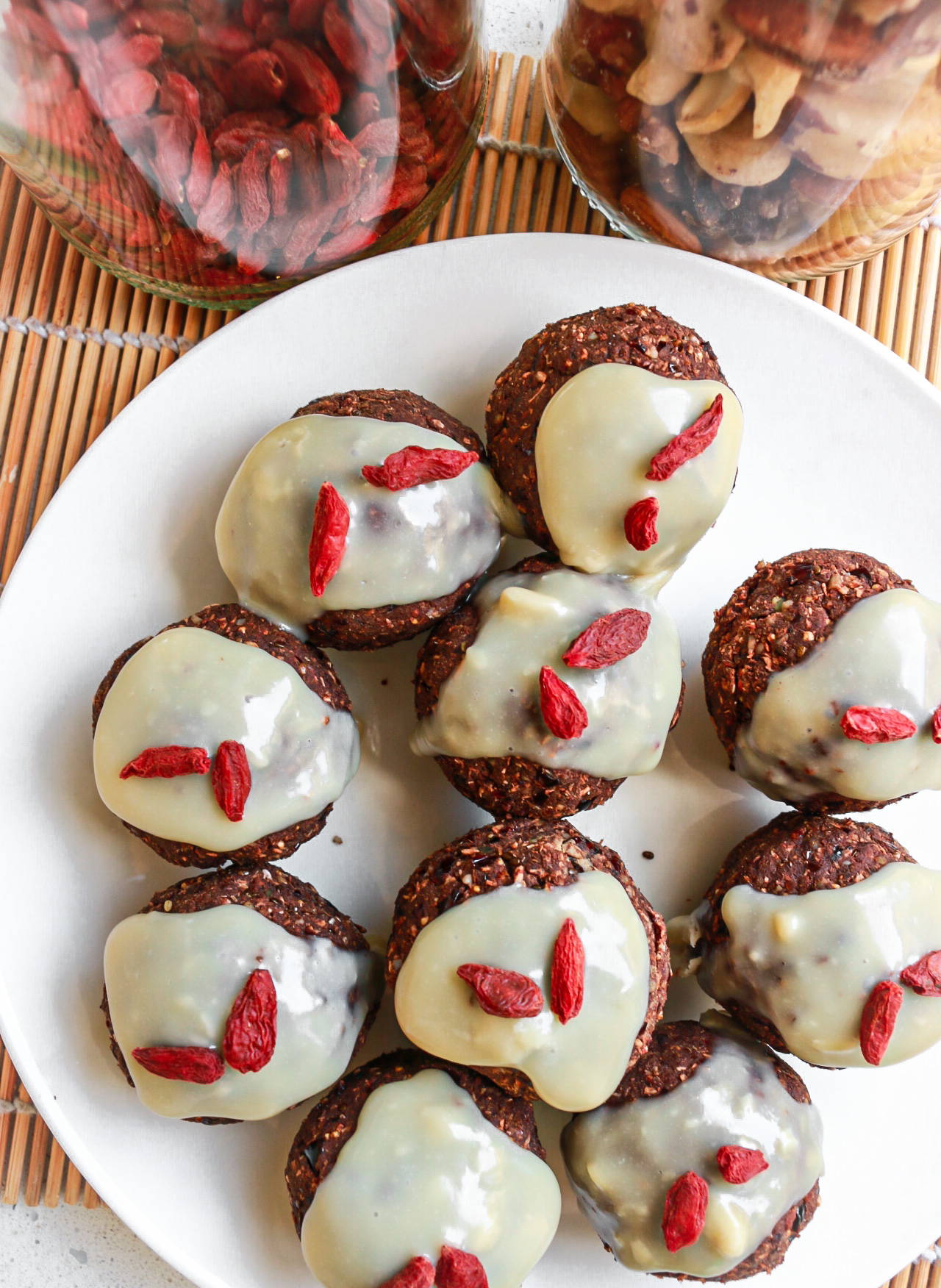 Christmas Pudding Bliss Balls
Prep Time: 15 minutes
Cook time: 0 minutes
Serving size: Approximately 10 bliss balls, pending on size
Course: Dessert, snack, clean treat, pre-work out, post-workout
Health and Dietary requirements: Vegan, Vegetarian, Gluten Free, Plant-based, Dairy Free, Refined Sugar Free, Naturally Sweetened, Plant-based, Wholefoods, Peanut Free, Egg Free, Sesame free, Oil free, Raw

Storage: Fridge
Date: Consume within 7 days. Keep Refrigerated.
Ingredients
Metric
Ingredients:
1 cup pitted dates
1/4 cup dried cranberries
1/2 cup activated walnuts
1/2 cup activated almonds
1 tbsp finely grated orange zest
1 tsp cinnamon
1 tsp ground ginger
1/2 tsp nutmeg
1 tbsp cacao powder
1 scoop vanilla plant protein powder, optional
Vegan white chocolate
Handful of goji berries
Instructions
1️⃣ Soak dates and cranberries in hot water for 15 minutes to soft, then drain.
2️⃣ Add almonds and walnuts to a food processor and pulse into a coarse meal. Then add dried fruit, orange zest, protein, cacao and spices and blend until a 'dough' forms.
3️⃣ Roll into golf ball sized balls.
4️⃣ Melt the chocolate and drizzle on balls to 'ice' them, and top each with two goji berries. Place in fridge to firm.
ENJOY!!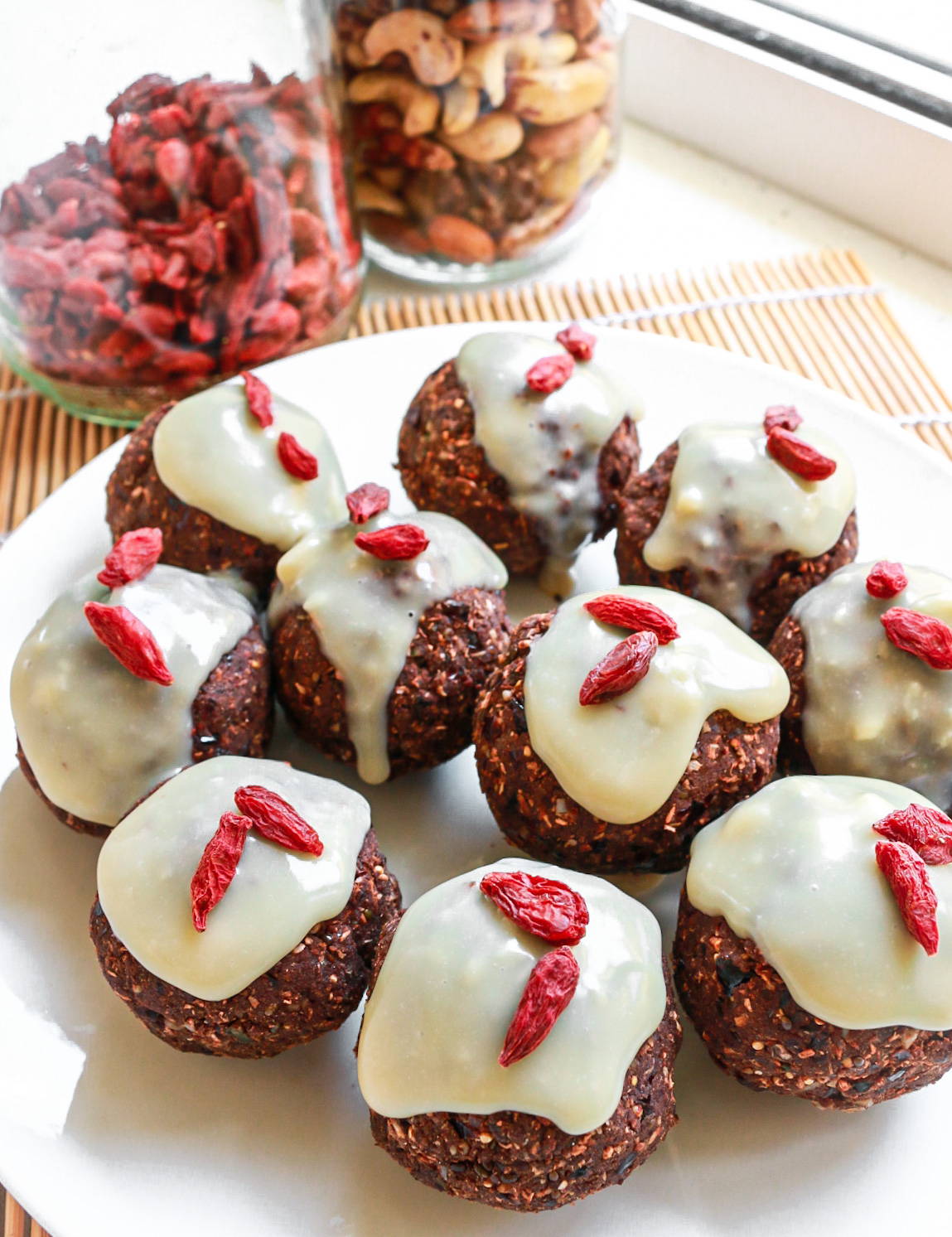 This recipe is made with love using items from the Garden of Vegan Pantry.

---
For more delicious plant inspired recipes, you can find Nina's here:
Website: www.naturally-nina.com
Instagram: @naturally_nina_
---