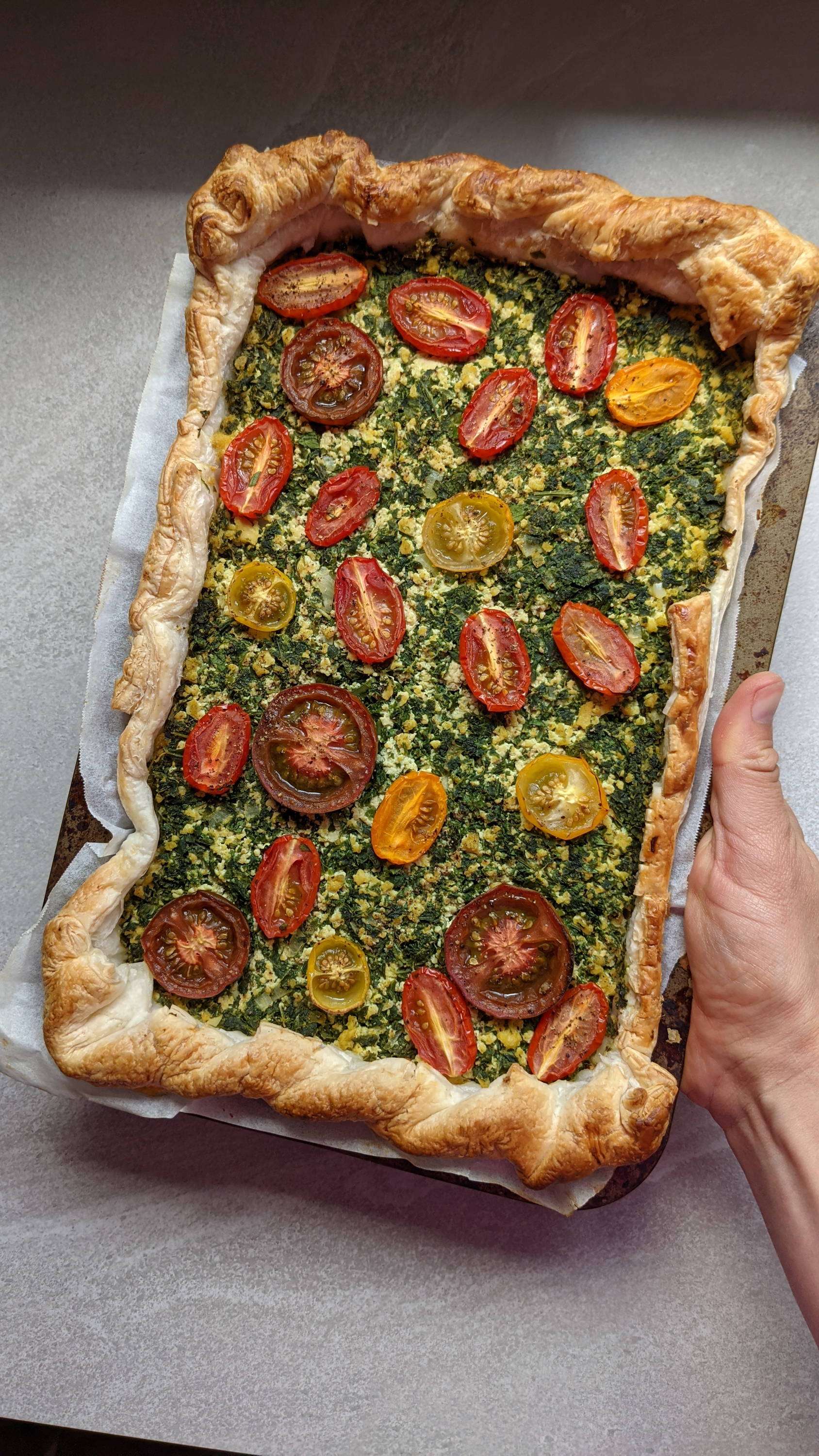 Recipe Creator: @veggie_nerd
Images Credits: @veggie_nerd
Made with love using the cancer-fighting cruciferous vegetable, King KALE!

This quick and easy Kale Tart, uses organic seasonal Curly Kale, and is a plant inspired version of the classic ricotta tart.
Creamy and packed full of macro and micro nutrients, this tart is a winner for breakfast, lunch or dinner! Or if you can't help yourself all three!
It can be served on its own, with some steamed veggies or a simple garden salad.

Once cooked, it is a great lunch box addition or easy dinner throughout the week!

100% organic ingredients
Plant based wholefoods
Easy to follow recipe
100% refined sugar free
Nut Free
Dairy Free
Vegan Friendly
Vegetarian Friendly
Can be served hot or cold

This recipe was created by our friend Nicola or as you may know her on Instagram; @veggie_nerd

Check her out for more simple yet delicious plant inspired recipes.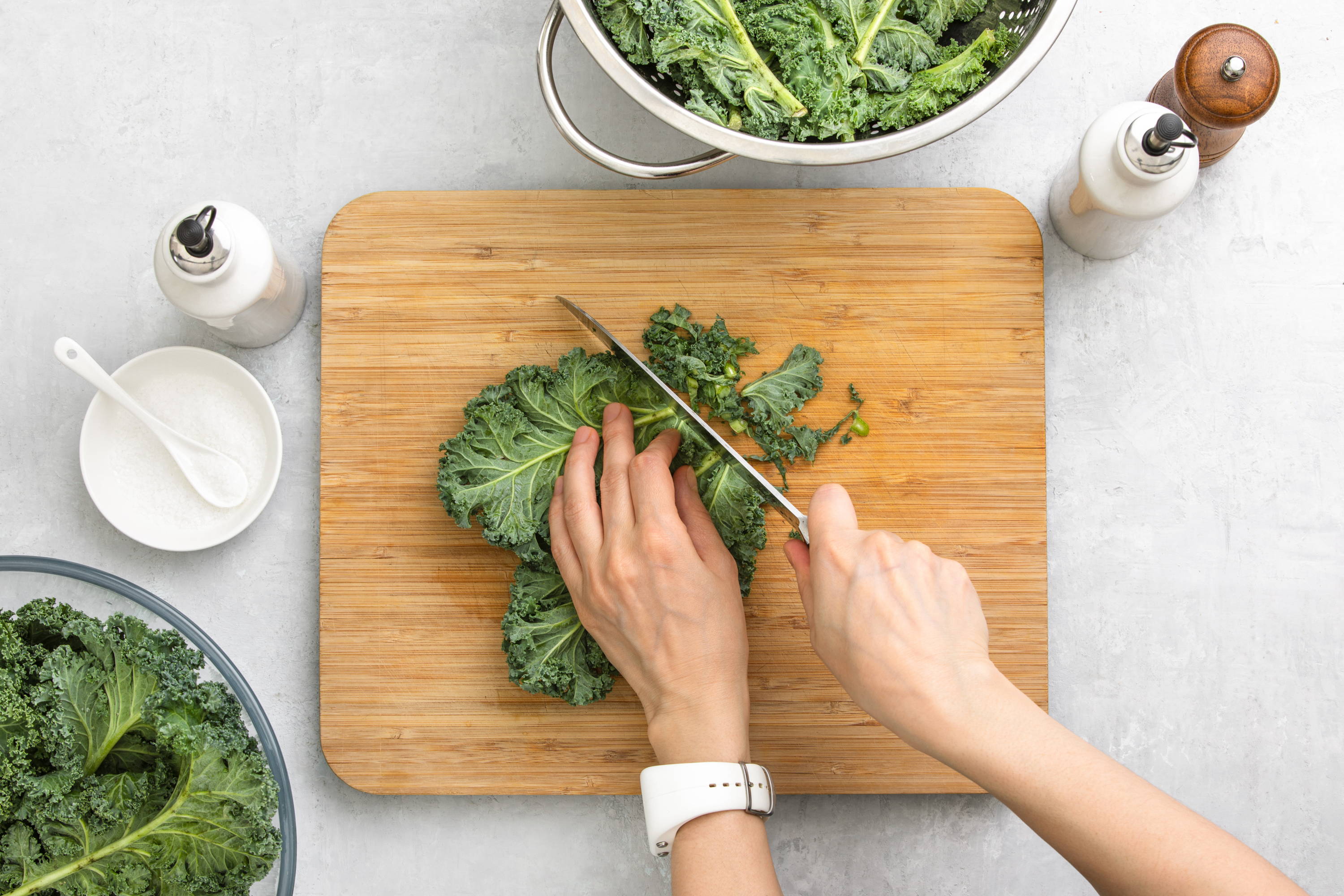 Kale is a great source of antioxidants and many nutrients, specifically fibre, Vitamin K, Vitamin A, and Vitamin C.

Due to its high amount of antioxidants, kale has been said to help fight off inflammation, prevent free radical damage to cells and reduce oxidative stress.

It is also said to contain a good amount of omega-3 fatty acids in the form of ALA which also helps to support the body's inflammatory responses.
Kale aids in the detoxification process thanks to the high amounts of sulfur and glucosinolates, removing toxins from the body.

This superfood has also been said to;
-Support heart health
-Support brain development in infants
-Promote healthy vision
-Prevent cancer cell growth

On its own, Kale can be hard to digest due to its strong, bitter flavour.
It's super important to always remove the stem and give it a little massage.
The stem is super fibrous and hard to chew and digest. So just remove it.
Massaging kale helps to break down some of its toughness, making it easier on your digestion whilst also helping to release some of the initial bitterness.

You can eat your kale cooked in soups, stir fry's or in tarts like this one. You can also eat it raw in salads, add it to your smoothies, or my personal favourite as kale chips!

For this Kale Tart recipe, Nicola used the seasonal curly kale and cherry tomatoes from her Garden of Vegan Deluxe Mixed Produce Box.

"So I got the freshest bunch of kale in my Garden of Vegan Organic Fruit and vege box this week… That is one of things I love the most about these fresh produce boxes, you get all these beautiful ingredients that you might not of otherwise brought and it just makes you get a little bit creative in the kitchen." - Nicola, December 2021

Add some creativity to your week with one of our seasonal, organic produce boxes.

-Sourced direct from certified organic and biodynamic farms across Australia
-All produce is picked fresh every week and is what is in season
-Delivered fresh to your door weekly with contactless delivery
-No harmful pesticides, herbicide or toxic chemicals are used in the farming of organic produce
-Organic farming is better for you health and the health of the planet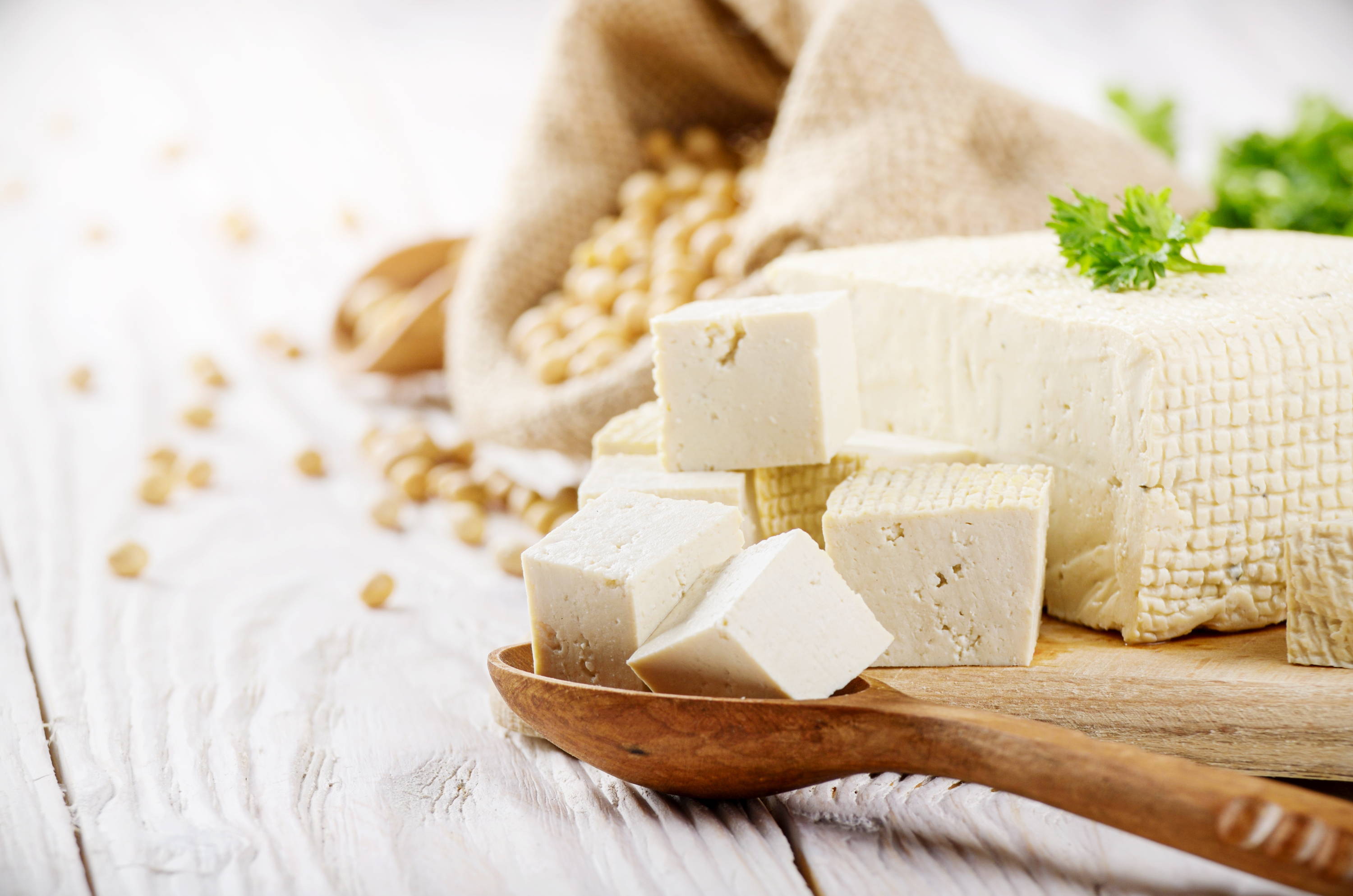 So what is tofu exactly?

Tofu is a product of soybeans. To make tofu, soybeans are generally soaked and then blended, creating soy milk. Similar to the process of making nut milk.

The liquid is then curdled, and the solids are pressed together to form a tofu block. A very similar process to how cheese is made from milk.
One of the great things about tofu is its nutritional profile.
It is high in protein, magnesium, calcium and selenium whilst also being low in calories, making it a nutrient dense health food and great alternative to animal products.

According to Dr Axe, The protein in tofu has been associated with the following health benefits;

-Promotes heart health
-May protect against some Cancers
-Relieves menopause symptoms
-Supports healthy weight loss
-Supports bone health
-Lowers blood sugar levels

One thing to be mindful of when it comes to cooking with tofu, is to ensure you buy organic. Majority of soy in the states is genetically modified and highly allergenic.

So if you are choosing to use soy, look for certified organic, non GMO soy.


Kale Tart Recipe - Here's What You'll Need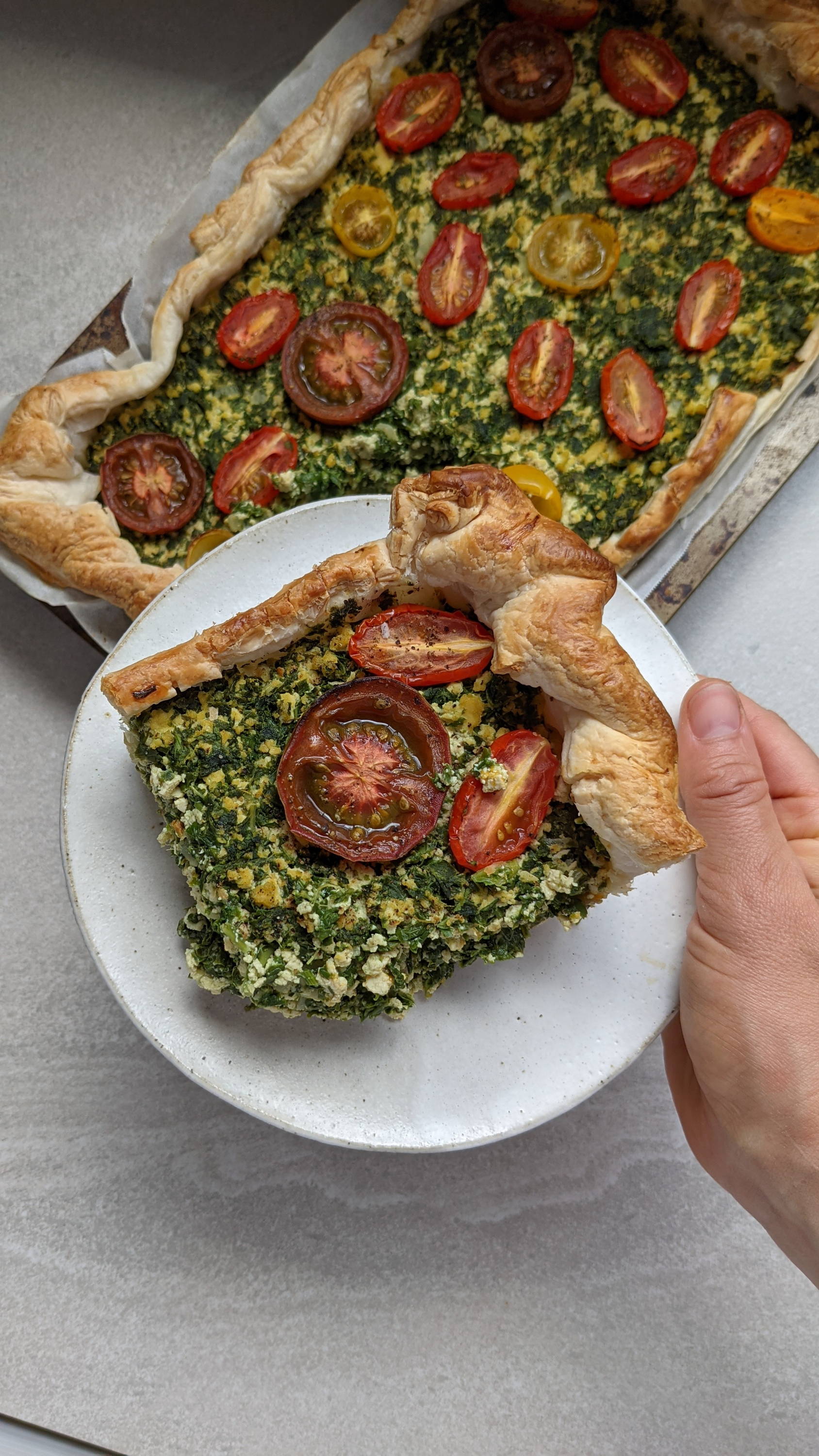 Prep Time: 15 minutes
Cook time: 45 minutes

Serving size: 8-10
Course: Side, Main, Lunch, Dinner, Snack
Health and Dietary requirements: Vegan, Vegetarian, Gluten Free, Plant-based, Dairy Free, Refined Sugar Free, Nut Free, Plant-based, Wholefoods, Peanut Free, Egg Free, Sesame free.

Storage: Fridge
Date: Consume within 5 days. Keep Refrigerated.

Ingredients
Metric


1 bunch of Kale (Tuscan or Curly is fine) de-stemmed and finely chopped
1 finely diced Onion
2 finely chopped Garlic Cloves
6-8 Cherry Tomatoes halved
1 block of firm Tofu (organic is best)
2 TBS Lemon juice
2 TBS Nutritional Yeast
1 tsp Salt
½ tsp Nutmeg
Pinch of Pepper to taste
¼ cup chopped Parsley
¼ cup of plant mylk mixed with 2 TBS of Cornflour
2 sheets of vegan puff pastry, thawed
Extra plant mylk for brushing
1. Wash and remove stems from the kale and finely chop. Prepare onion, garlic, tomatoes and set aside.

2. Saute chopped onion and garlic until soft, on medium heat. Then add de-stemmed kale and cook for 3-4 minutes until bright green and reduced in size.

3. Transfer onion, garlic and kale mix to a bowl and crumble in the firm tofu. You can use a potato masher to mash everything together.

4. Then add the nutritional yeast, lemon juice, nutmeg, salt, pepper, parsley, and cornflour. Mix well until combined. Set aside.

5. Line a baking tray with baking paper and make the tart base using puff pastry.

6. Fill the tray with the kale tofu mix.

7. Half the cherry tomatoes and cover the top of the tart with them

8. Brush some more plant mylk on the pastry edges.

9. Bake at 180 degrees for 45 minutes.

Tip: You may need to cover the edges of the tart with foil so that they don't burn towards the end.

10. Can be served hot or cold. Enjoy!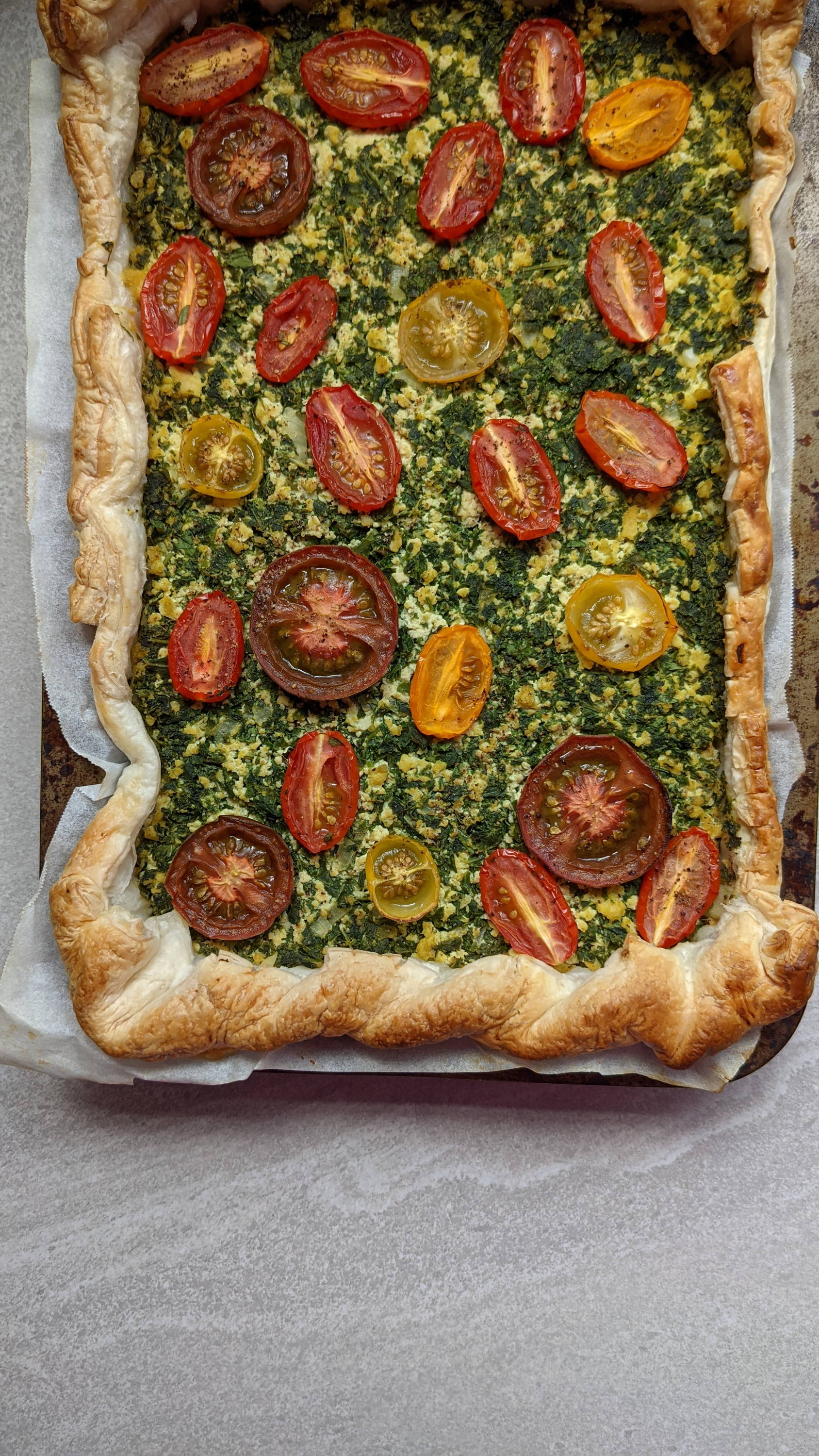 Can I substitute any ingredients?
Yes. Kale can be substituted for other seasonal greens or other varieties of kale. You could use silverbeet, rocket, spinach, medzuna or even beetroot leaves. You culd even do a mix of greens, depending on what is in season and available.

What if I am Gluten free?
You could source a gluten free vegan puff pastry.

Get creative and do share your variations with us @wearegardenofvegan


For more plant based inspired recipes, head to @veggie_nerd

---
Looking For Tasty Vegan Meals But Not Into Cooking?

Browse our new menu items through the link below!


Looking for fresh ingredients to try this delicious recipe yourself?
Order our Organic Veggie Box and get these farm fresh ingredients delivered to your door!
---