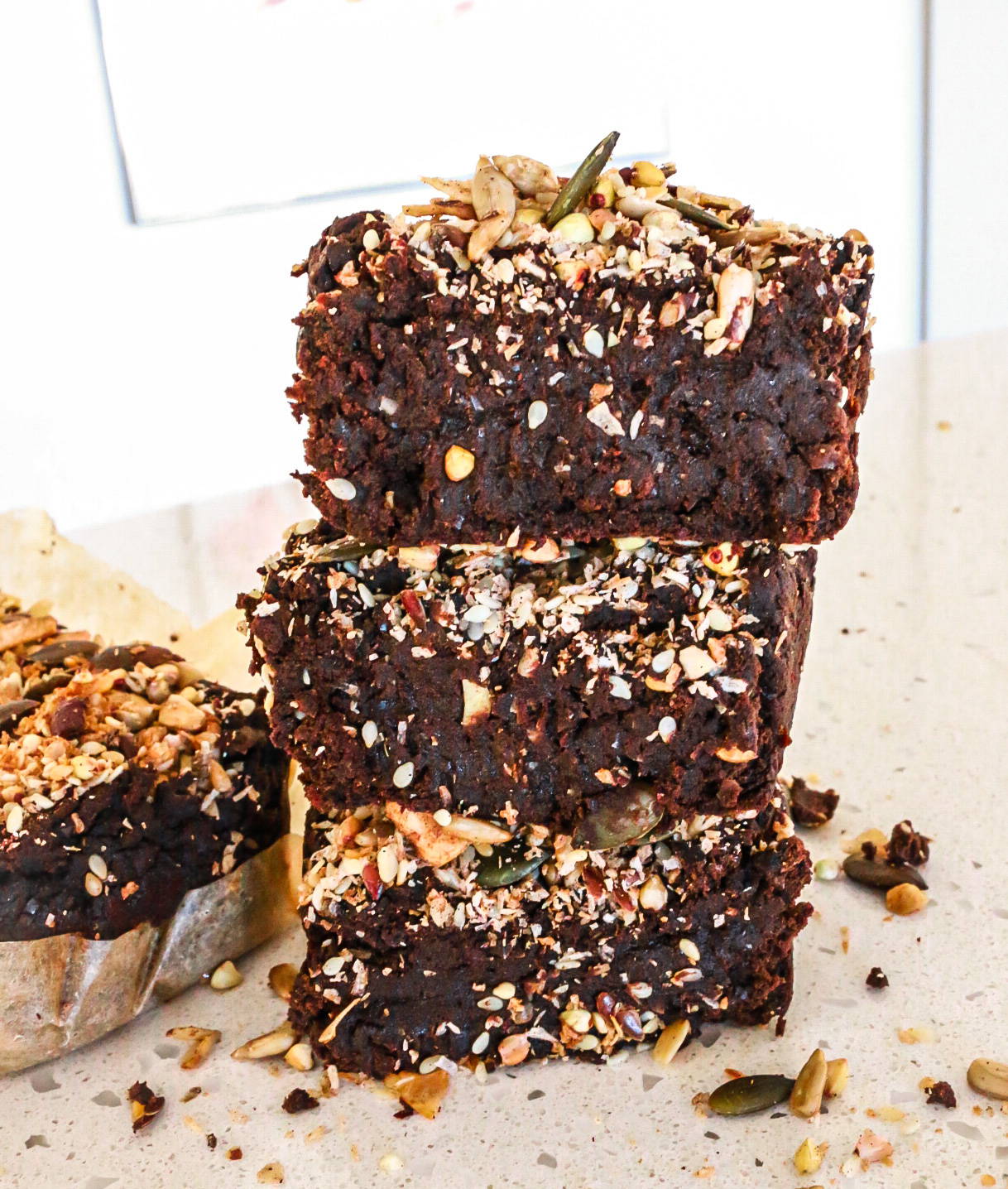 Recipe Creator: Instagram: @naturally_nina_
Images Credits: Instagram: @naturally_nina_
Made with love using 100% organic ingredients and Plant based wholefoods.

Easy to follow recipe
100% refined sugar free
Gluten Free
Nut Free
Dairy Free
Oil Free
Vegan Friendly
Vegetarian Friendly
Can be served hot or cold
Made with love from our friend Nina or as you may know her on the gram; @naturally_nina_
This decadent yet healthy brownie is a great dessert, special treat or wholesome snack to satisfy your sweet tooth.

Easy to make and packed full of macro and micro nutrients.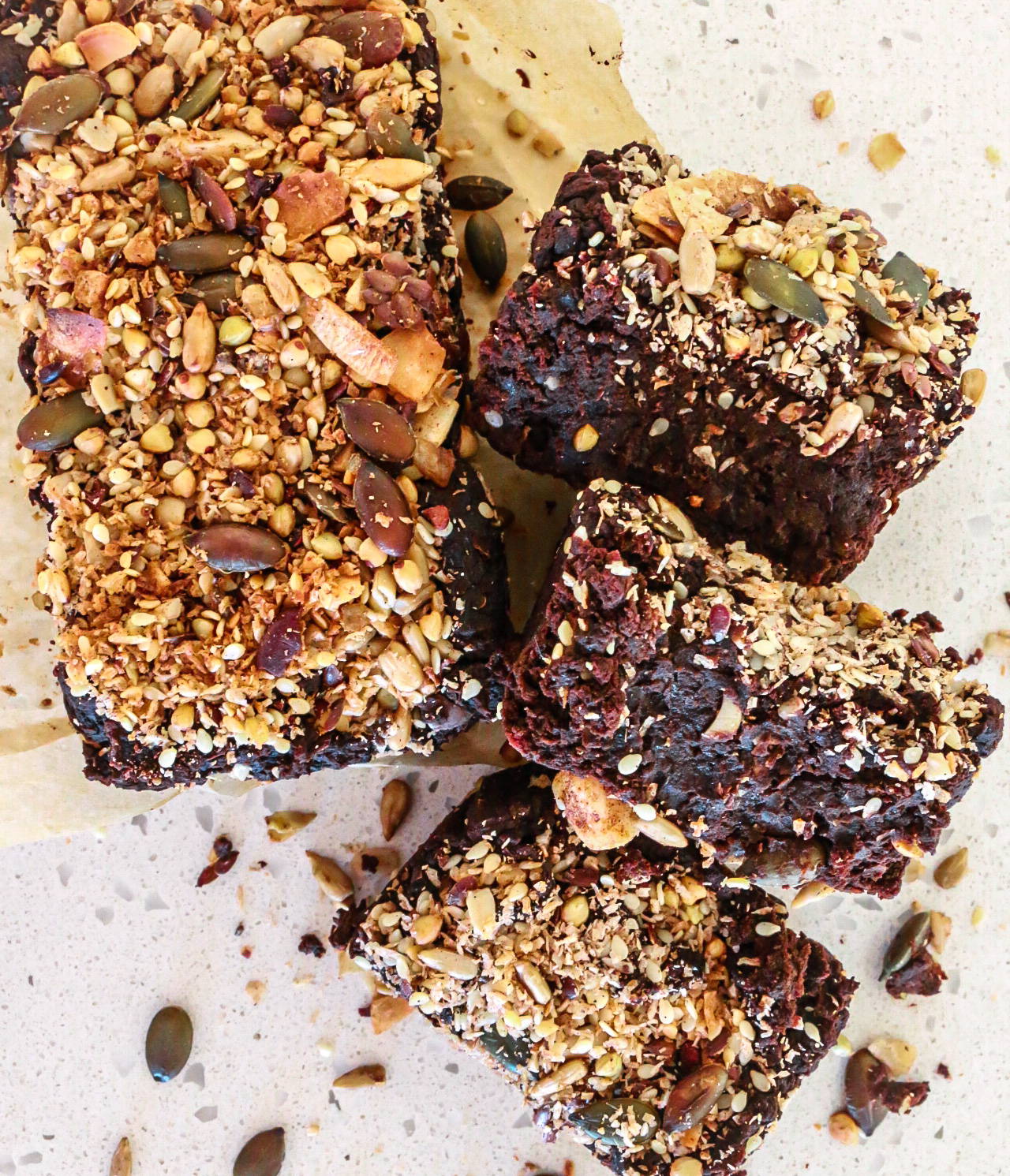 If Valentine's Day is the excuse the need to make a chocolatey delight, then go for it!

These fudgy gooey little bites of fudge brownie are rich yet super wholesome, packed with fibre, plant protein and iron ~ and topped with a crunchy golden superfood seed blend from the Garden of Vegan Pantry.

It can be served on its own, with some home made nice cream, some berries and our favourite, a spoonful of ActiveEarth's Almond Butter, also found online at the Garden of Vegan Pantry.
"Loving the entire @wearegardenofvegan pantry range, and this seed mix is such a great addition to baked goods to add extra crunch + plant diversity!!" - @naturally_nina_


Once cooked, it is a great lunch box addition or special dessert to share with a loved one.
"This slice make a perfect sweet treat, snack or dessert and I can confirm I demolished them in less than 3 days." - @naturally_nina_

RECIPE: Choc Fudge Brownie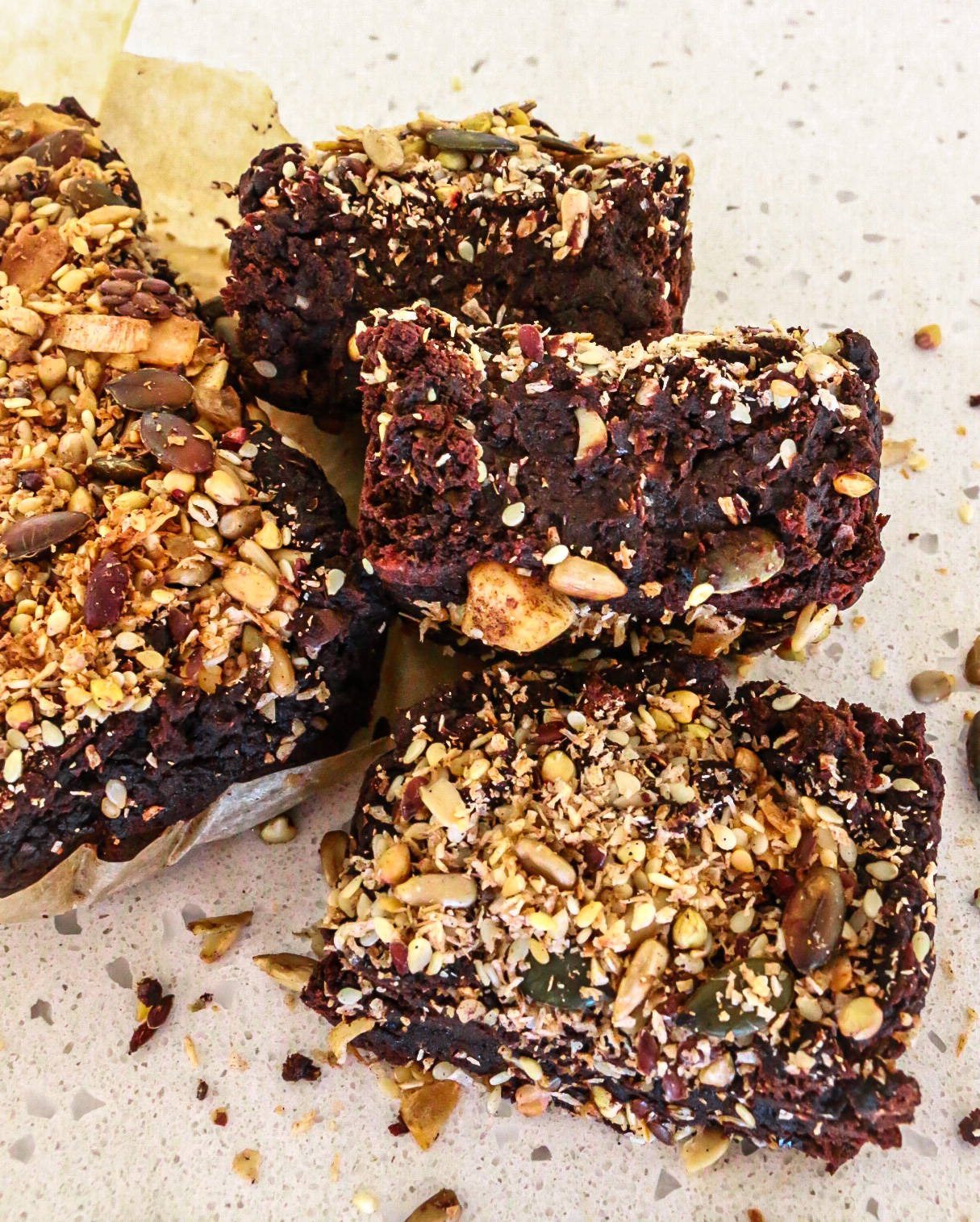 Prep Time: 5 minutes
Cook time: 20 minutes
Serving size: 4-8
Course: Snack, Treat, Dessert
Health and Dietary requirements: Vegan, Vegetarian, Gluten Free, Oil Free, Plant-based, Dairy Free, Refined Sugar Free, Nut Free, Plant-based, Wholefoods, Peanut Free, Egg Free.
Storage: Fridge
Date: Consume within 5 days. Keep Refrigerated.
Ingredients
Metric
1 can butter beans, drained and rinsed
1/3 cup cacao powder
Pinch of salt
1/2 cup maple syrup
1 tbsp flax meal (blend flax seeds to make a flour like consistency if you don't have meal)
1/2 tsp baking powder
1 tsp vanilla (extract or bean is fine)
1/3 cup of superfood seed blend (Get yours here!)
Optional but recommended, small handful of vegan chocolate chips
1️⃣ Preheat your oven to 200°C and line a tin with baking paper.
2️⃣ Add beans, syrup, vanilla, flaxmeal, cacao, salt and baking powder to a blender or food processor and blend until smooth.
3️⃣ If using, stir through choc chips, then spoon batter into tin and top with seed mix.
4️⃣ Bake for 20 minutes until golden, then allow to cool before slicing.
ENJOY!!
Nina is an Accredited Nutritionist & Sports Nutritionist (BSc)
You can view more of her recipes at;
www.naturally-nina.com
Or follow the latest on the gram: @naturally_nina_
---
Looking For Tasty Vegan Meals But Not Into Cooking?

Browse our new menu items through the link below!


Looking for fresh ingredients to make delicious recipe's like these for yourself?

Order our Organic Veggie Box & Pantry Items and get farm fresh ingredients delivered to your door!
---