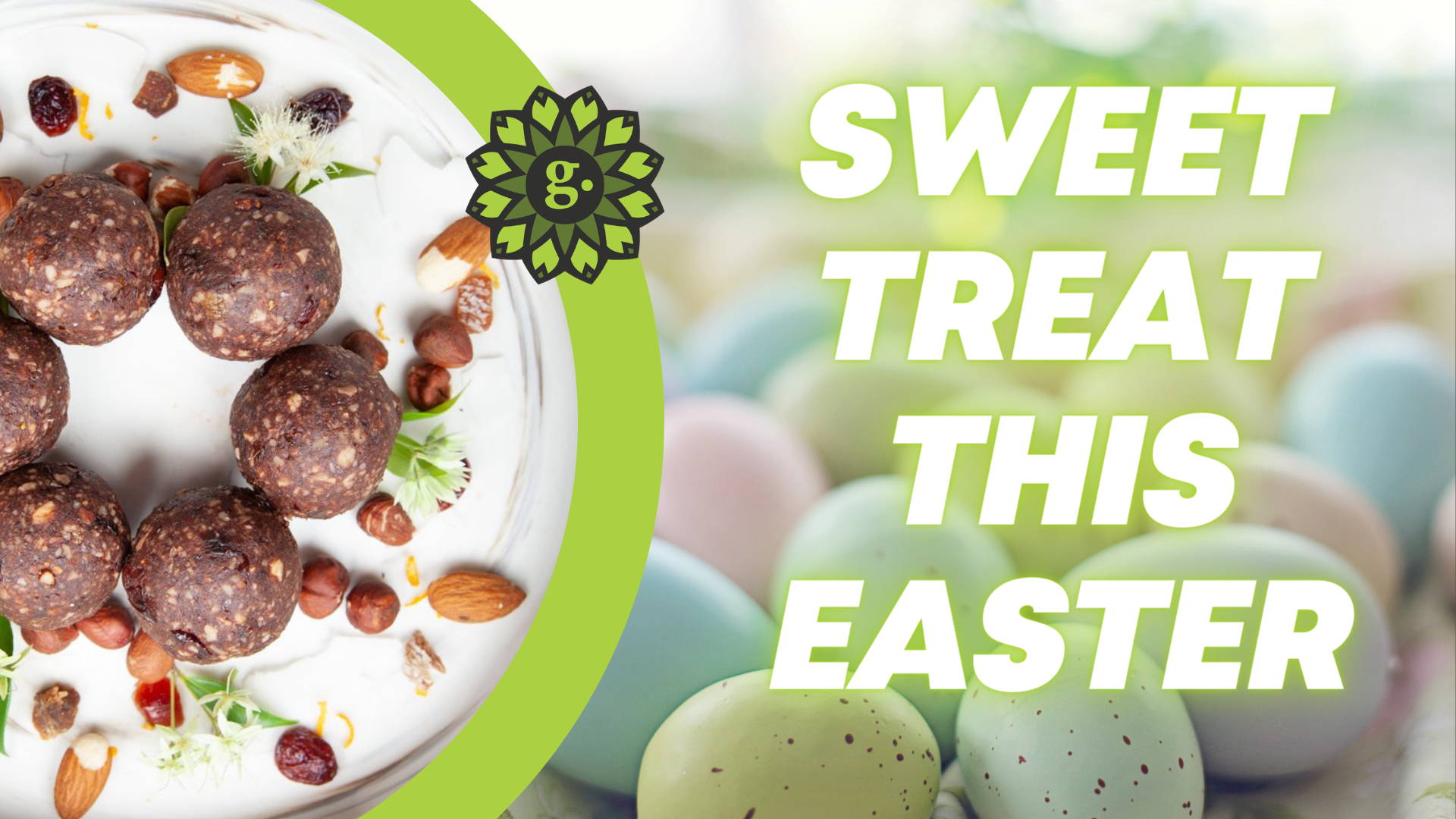 Hot cross bun inspired, delightful easter bites.

Are you looking for a quick and easy, decadent treat to make and take with you on your easter adventures?

These no-bake, spiced chocolate easter bites will not disappoint!

All you need is your blender of choice and 20 minutes. It really is that simple.

Made from 100% wholefoods, this treat is bursting with health benefits that will keep you feeling satisfied whilst nourishing your cells.

These bites are naturally sweetened with medjool dates, which means no added processed sugars or unnatural flavours.
Medjool dates, also known as the healthiest natural sweetener are packed full of fibre, vitamins and minerals, boasting remarkable health benefits.
The bites are also made using four of our favourite health-promoting spices; ginger, cinamon, clove and nutmeg.
You will also see almonds in the ingredients list. Almonds are a high source of dietary fibre, antioxidants and monounsaturated fatty acids (the healthy kind of fat). Almonds are also said to contain good amounts of Vitamin E and Riboflavin. Trace minerals such as Magnesium, Manganese and Calcium are also present.


If you are after a tasty chocolate treat that is not reliant on dairy, sugar or oil for its flavour, then this is the treat for you!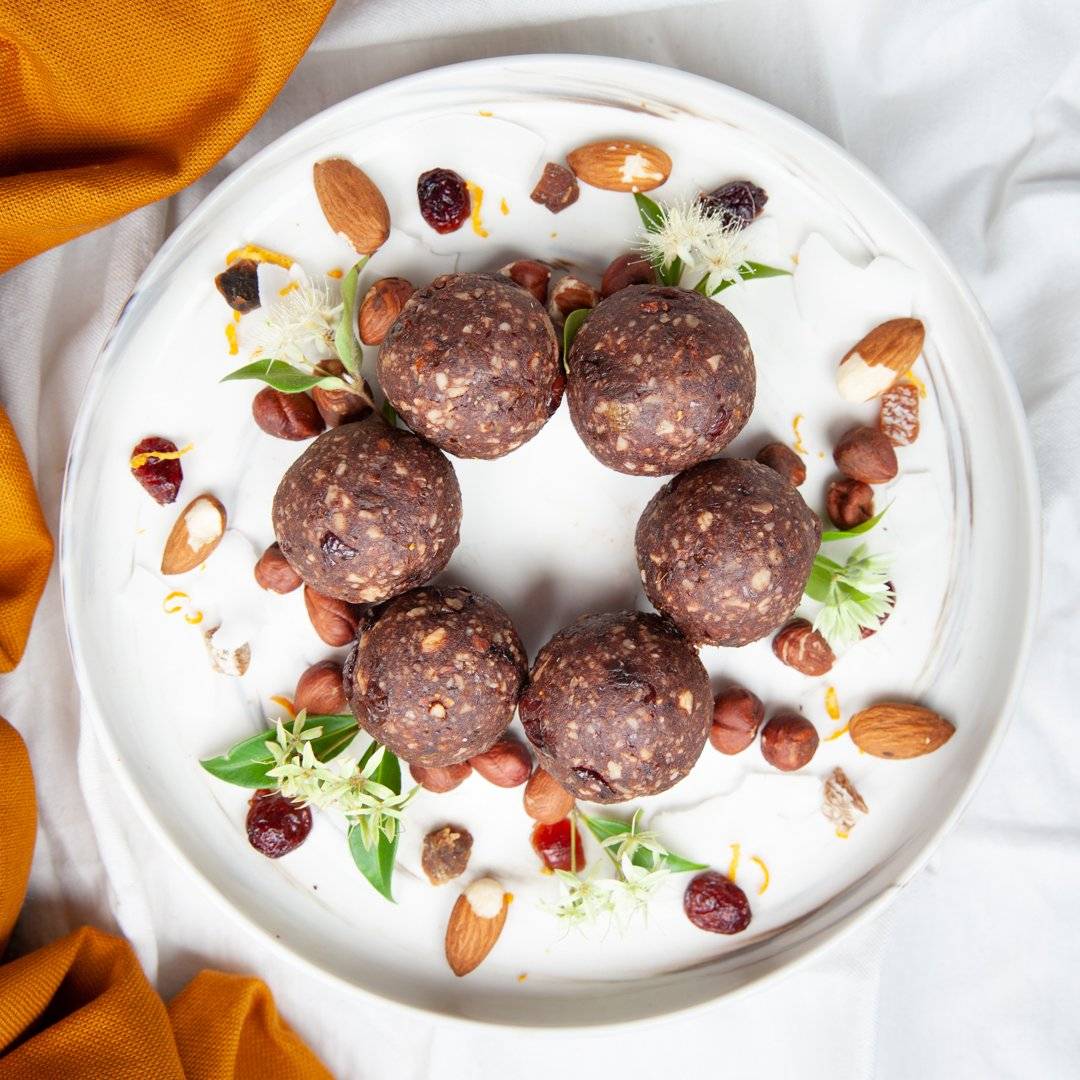 Our No-bake, Spiced Chocolate Easter Bites are;
-Gluten Free
-Oil Free
-Processed Sugar Free
-Vegan
-Vegetarian friendly
-Dairy Free
-Made from wholefoods
-Plant-based
Prep Time: 20 minutes
Cook time: 0
Total time: 20 minutes
Serving size:12-20 bites depending on how large you form the balls.
Course: Dessert, Snack
Health and Dietary requirements: Vegan, Vegetarian, Gluten Free, Plant-based, Dairy Free, Oil Free, Refined Sugar Free, Plant-based, Wholefoods, Peanut Free, Sesame free, Egg Free
Storage: Fridge or freezer
Date: Consume within 14 days. Keep Refrigerated.
Ingredients
½ cup of pitted Medjool Dates
¼ cup dried Apricots
¼ cup Raisins
1 cup desiccated or shredded Coconut
½ cup Almonds
¼ cup of Cacao powder
We also like to use grated ceremonial grade cacao paste. Learn about the benefits of Ceremonial Cacao here)
Zest of 1 Orange
2 tsp of Allspice (Cinnamon, Clove, Nutmeg)
Pinch of Ginger powder or freshly grated
Pinch of Celtic Sea Salt

Optional extras
2 tablespoons of BeHumane Smoothie Booster. BeHumane Smoothie Booster is an organic, wholefood plant-based supplement containing Vitamin D3 from lichen, Iodine from kelp powder, Omega 3's from flaxseed, and is fortified with that elusive Vitamin B12.
Boost your bites with this super plant-based supplement.
Instruction
1. Combine coconut and almonds in a blender on medium speed. You want these broken down into fine crumbs, but not flour consistency.
Set aside.
You can have this mixture left a little chucky if you like that nutty crunch!
2. Combine dates, apricots, raisins and orange zest in blender on high.
This should form a paste like consistency.
Add some orange juice if more liquid is needed.
3. Add blended almonds, coconut, cacao, allspice, ginger and sea salt.
Blend on Medium until it forms a dough like consistency.
4. Empty mixture out of blender and start forming small bite sized balls.
Roll this with your hands.
5. Eat fresh and enjoy!